11th Edition Application Form – Late Submissions
Welcome to THE competition for cleantech start-ups
the Nordic Cleantech Open!

The main focus of the Nordic Cleantech Open competition is to identify, support and promote the 25 best cleantech start-ups in the Nordic and Baltic regions. The applicants will be reviewed by our jury of international investors and industrials, who will provide valuable feedback for each case. Therefore, we kindly ask you to fill in the application thoroughly, so the jury can get a better understanding of your company.
About the application form:
Answer the questions clearly and concisely: the limit for most open questions is 500 characters.
You can upload an illustrative picture, document or video with the application. This is voluntary.
Fields marked with an * are compulsory. You will not be able to submit your application without responding them. If you press submit and still have required questions unanswered, the form will show you which ones on the top of the page.

You may save you application and finish submitting at a later time, but you need to follow the instructions provided after you press the button. The unique generated link is secure as long as you don't publicly share it, and will work in any computer for a period of 30 days.
The feature will be available while late submission is open, but to apply you must finish your application before the deadline.
This is what the message Save & Continue message looks like: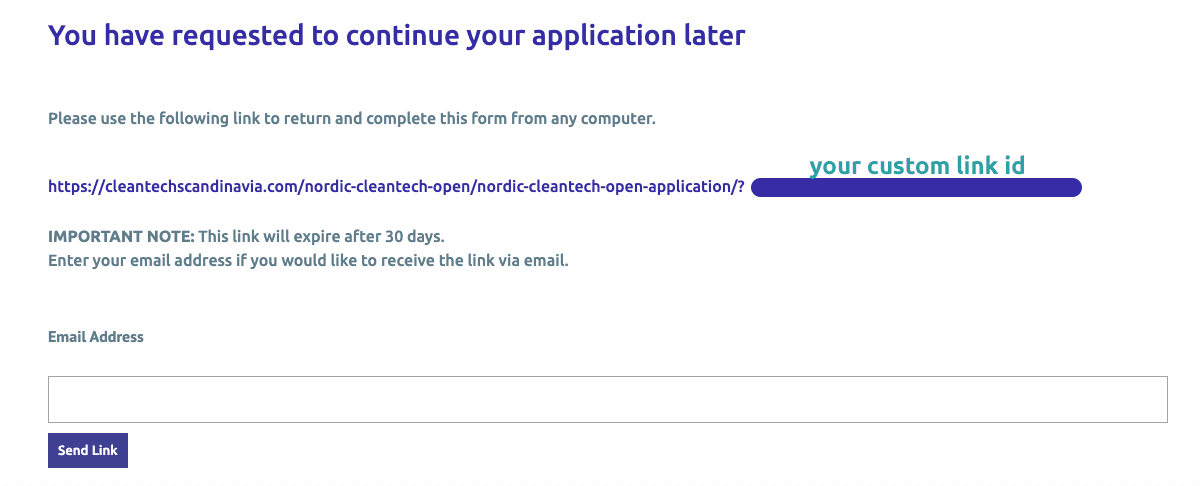 Other answers and infos can be found at the Frequently Asked Questions (FAQ) document.
The information submitted will be available only to the Nordic Cleantech Open Jury and Cleantech Scandinavia members. Regarding the personal contact information you submit, you can read more information on how we use your personal data from our privacy policy.
If you are having issues with the form, please contact info@cleantechscandinavia.com
Best of luck!