The Cleantech Dealflow Webseries is a montly online event, short time (~1,5h), focused audience and just a handful of curated start-ups – scale-ups showcasing.
This is our 5th event and will be focused on "E-Mobility and Logistics: pathways to electrification and smart solutions".
Participation is included in the regular membership of our members and interested people can register separately and each time by interest.
Cleaner alternatives for mobility and logistics

As we have all become more mobile, the carbon footprint of our transport activities has grown. Transport currently accounts for a quarter of the EU's greenhouse gas emissions and this figure continues to rise as demand grows. The European Green Deal seeks a 90% reduction in these emissions by 2050. Moving to more sustainable transport means putting users first and providing them with more affordable, accessible, healthier and cleaner alternatives.
Achieving the ambitious climate goals also requires a shift to more sustainable transport modes and alternative fuels. For this to happen, the capacity will need to be both extended and better managed.
Source: European Commission


Improving efficiency across the whole transport and logistics system is crucial. In this event companies will pitch on innovations enabling automated mobility and smart traffic management systems, electrification of roads, last-mile delivery robotics as well as autonomous public transports.
Read more about the pitching companies below.
Welcoming Words
Laura Fostinone, Cleantech Scandinavia
Keynote
Anne Jalkala, VP, Digital Growth Businesses, Fortum
Market insights and development of E-mobility with highlights of Plugsurfing e-charging business
Showcase Session

14.20 – 15.20
5 min pitches
+
5 min for Q&A
Company pitches
Panelists:
Joel Gorsch, Business Region Gothenburg (Sweden)
Tuomas Hyrkäs, Fortum (Finland)
Claas Helmke, Wermuth Asset Management (Germany)
Companies: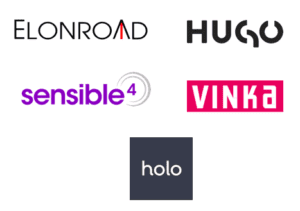 Closing words
Laura Fostinone, Cleantech Scandinavia

REGISTRATION

The Cleantech Dealflow Webseries is an monthly event to bring constant dealflow to our members, friends and partners. We select the participants one by one so that our audience and presenters are fully aligned with the same vision: to put together outstanding cleantech innovations and investment opportunities.
Do you share that vision with us? Then you sure should join the events!
I AM A MEMBER

Check your mailbox and your calendar. We have sent you the link and all info needed!
I AM A NOT A MEMBER

You are more than welcome to join us!
The cost to participate in each session is 99 EUR and we will be sending you an invoice.
Please fill in the info below and we will be in contact!
[forminator_form id="12595″]

If you have any question or anything went wrong while registering, contact us.