The Cleantech Dealflow Webseries is a montly online event, short time (~1,5h), focused audience and just a handful of curated startups-scaleups showcasing.
This is our 2nd event and will be focused in Smart Buildings and Energy Systems.
Participation is included in the regular membership of our members and interested people can register separately and each time by interest.
GREEN HOMES AND OFFICES GOING MAINSTREAM

The population of our global cities is projected to double by 2050. With this challenge before us, the property industry must be brave and innovative if we are to create and manage buildings, communities and cities which are not only efficient in environmental terms, but also promote a high quality of life for all who pass through them.
Greener and smarter built environment promotes fairly tremendous environmental savings (from 25% to 50%, depending on the adopted technology) and at the neighborhood and city scale we can deliver economic priorities such as climate change mitigation, energy security, resource conservation and job creation, long-term resilience and quality of life.
This event shares evidence and case studies from the Lighting Metropolis project, sheds a light on a the impact of technology on buildings, health and productivity as well as showcase 5 startups that can provide such innovations.


In this event, companies will pitch on topic such as battery storage for renewables, integration for consumers and energy systems, cloud heating control, optimized distribution of air and artificial intelligence for building management.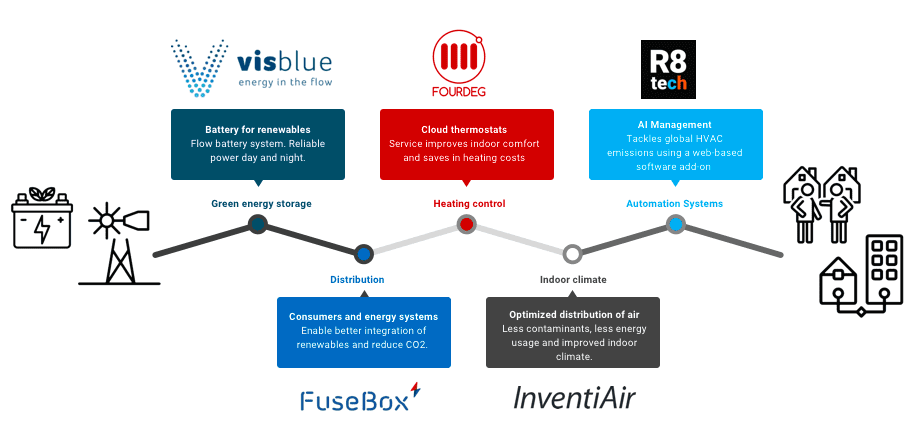 Welcoming Words
Laura Fostinone Cleantech Scandinavia
Keynote
Fredrik Malmberg from Innovation Skåne & Lighting Metropolis Interreg Project
"The potential of smart building and energy performance sector"
Q&A with the panelists
Showcase Session

14.20 – 15.20
5 min pitches
+
5 min for Q&A
Company pitches
Panelists:
Madeleine Gilborne, Alfa Laval (Sweden)
Nicolas Mileroiux, Encevo (Luxembourg)
Verena Lübken, Energie360 (Switzerland).
Companies:

Fourdeg Finland
Visblue Denmark
InventiAir Sweden
FuseBox Estonia
R8Tech Estonia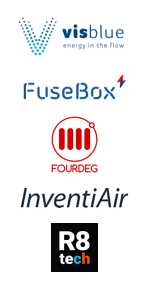 Closing words
Laura Fostinone, Cleantech Scandinavia

REGISTRATION

The Cleantech Dealflow Webseries is an monthly event to bring constant dealflow to our members, friends and partners. We select the participants one by one so that our audience and presenters are fully aligned with the same vision: to put together outstanding cleantech innovations and investment opportunities.
Do you share that vision with us? Then you sure should join the events!
I AM A MEMBER

Check your mailbox and your calendar. We have sent you the link and all info needed!
I AM A NOT A MEMBER

You are more than welcome to join us!
The cost to participate in each session is 99 EUR and we will be sending you an invoice.
Please fill in the info below and we will be in contact!
[forminator_form id="12595″]

If you have any question or anything went wrong while registering, contact us.