On 4 February 2020 InnovationQuarter and Cleantech Scandinavia signed a Memorandum of Understanding committing to intensifying the collaboration between the Nordic and Dutch cleantech ecosystems in the coming years. The collaboration is focused on supporting Dutch and Nordic companies in entering and accelerating their activities in each other's markets, either for international collaboration, trade or establishment.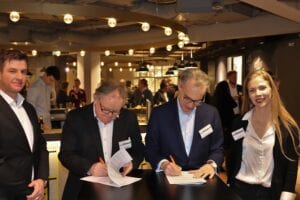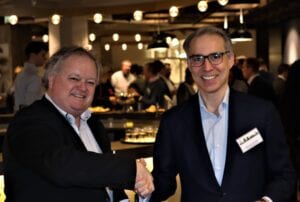 Cleantech Scandinavia and InnovationQuarter, together with their respective partners, have regularly partnered up to boost collaboration between the Dutch and Nordic cleantech ecosystems over the past year. In 2019 the organisations co-organised the Sustainable Building and Energy Systems Mission to Boston, and were involved the Dutch-Nordic Business Event connected to the Smart City Expo World Congress in Barcelona. During these events it became clear that a joint Dutch-Nordic presence helps businesses make more impact when entering a foreign market, but also that there is a lot of interest among entrepreneurs and clusters to increase innovation and business collaboration between Dutch and Nordic cleantech players.
To boost such collaboration, InnovationQuarter and Cleantech Scandinavia organised the Nordic Business Day on February 4 2020, where Dutch and Nordic entrepreneurs, clusters and governmental organisations exchanged market information and business experiences in the fields of smart & sustainable building, mobility and life sciences and health.  Moreover, they took this event as an opportunity to formalise and commit to a multiyear collaboration to connect the Nordic and Dutch cleantech ecosystems by signing a Memorandum of Understanding (MoU).
The goals of this MoU is to set up a multiyear collaboration (2020 2022) to connect the Nordic and Dutch cleantech ecosystems in order to
Promote collaboration between The Nordic and Dutch cleantech ecosystems, as well as the various players within them.
Support Dutch and Nordic companies in entering and accelerating their activities in each other's markets, either for innovation, trade goals or establishment in respective markets.
Investigate possible future collaboration to target other foreign markets.
Cleantech Scandinavia and InnovationQuarter intend to realise the above in various manners:
Sharing of relevant market information;
Support each other's network in entering their respective markets. For example by providing introducing companies to potential partners (matchmaking), guiding small groups of entrepreneurs in their respective regions, providing soft-landing services, etc.;
The organisation of various events in the Netherlands and the Nordics each year. These events will either involve bringing over a delegation to each other's region, or be focussed on informing the 'home market' on the opportunities that exist in the other region.
Supporting Dutch and Nordic entrepreneurs in jointly entering foreign markets.
What's coming up in 2020?
As part of their collaboration Cleantech Scandinavia and InnovationQuarter have the intention to contribute to the  following events:
Nordic Business Day, 4th of February. Topics: Sustainable Building, Sustainable Mobility and Life Sciences & Health.
Dutch Sustainable Building Mission to Stockholm from 20 to 24 April (sign up before February 27, click here for more information and registration)
InnovationQuarter visits Energy Capital Day in Lund 12 13 May.
Dutch-Nordic Cleantech mission to Boston to be held in Boston in the autumn of 2020
Dutch/Nordic event at the Smart City expo in Barcelona in November 2020
Participation of Nordic Cleantech delegation at Cleantech Summit in Rotterdam in November 2020
Interested in participating in any of the above events? Or curious to learn more about the collaboration between InnovationQuarter and Cleantech Scandinavia? Contact Anne de Vries from InnovationQuarter or Toby Hörnlein from Cleantech Scandinavia.
Anne de Vries/Â Project Manager Internationalisation
+31 6 2254 6065Â /Â anne.devries@innovationquarter.nl