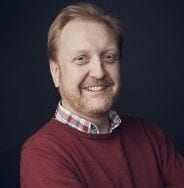 FREDRIK MALMBERG
INNOVATION MANAGER, LIGHTING | INNOVATION SKÅNE
Fredrik works with increasing the knowledge of the importance of qualitative light (Lighting Metropolis) and how we can benefit from creating new and improved lighting solution (Framtidens belysning/ Human Centric Light).
Fredrik has a broad background ranging from being a MSc Ind. Eng. to be an entrepreneur and lecturer at Lund University.
Projects at Innovation Skåne Lighting Metropolis (Interreg), Framtidens belysning – "The future's lighting in Southern Sweden (Skåne) – Human Centric Light"
Areas of expertise Inspiration lecturer, creating new solutions, evaluate and improving solutions
Motivation "Seeing is beliving" – creating new solutions/benefits based on real needs – to show that it is possible and inspire to future improvements.