THE RACE TO NET ZERO WITHOUT WOMEN?

By Aziliz Le Rouzo | March 8th, 2022
In the midst of a global climate crisis, where and to whom capital is allocated is key in determining whether we can reach our climate goals. The lack of female representation – at the level of investors, venture capital funds, and companies – constitutes a major risk, as women's representation is an essential condition for innovation, catalyzing economic growth, productivity and cohesion. While female-led businesses outperform in capital productivity by 96%, this incredible potential is left untapped. Recent statistics from 2020 in Central and Eastern Europe (CCE) show that women-founded startups received only 1% of the funding, 5% went to mixed-gender founding teams, and 94% to all-male teams1.
For the first time this year, we are publishing statistics on the gender funding gap for the Nordic cleantech ecosystem. Underrepresentation of women in the tech, industry 4.0 and energy sectors is particularly problematic, and we are excited to present brand new statistics from these areas. The study below looks at the distribution of venture funding across funding stages, countries and cleantech segments based on gender representation within the founding teams.
Overview of the funding landscape
This graph shows that in the Nordics in 2021, investments made in companies founded by women represent 6% of the total amounts invested. 13% of the deals went to companies with at least one female founder while 4% of the deals went to companies with two female founders or more. The lion's share of investments went to all-male founding teams in which 94% of the capital was invested.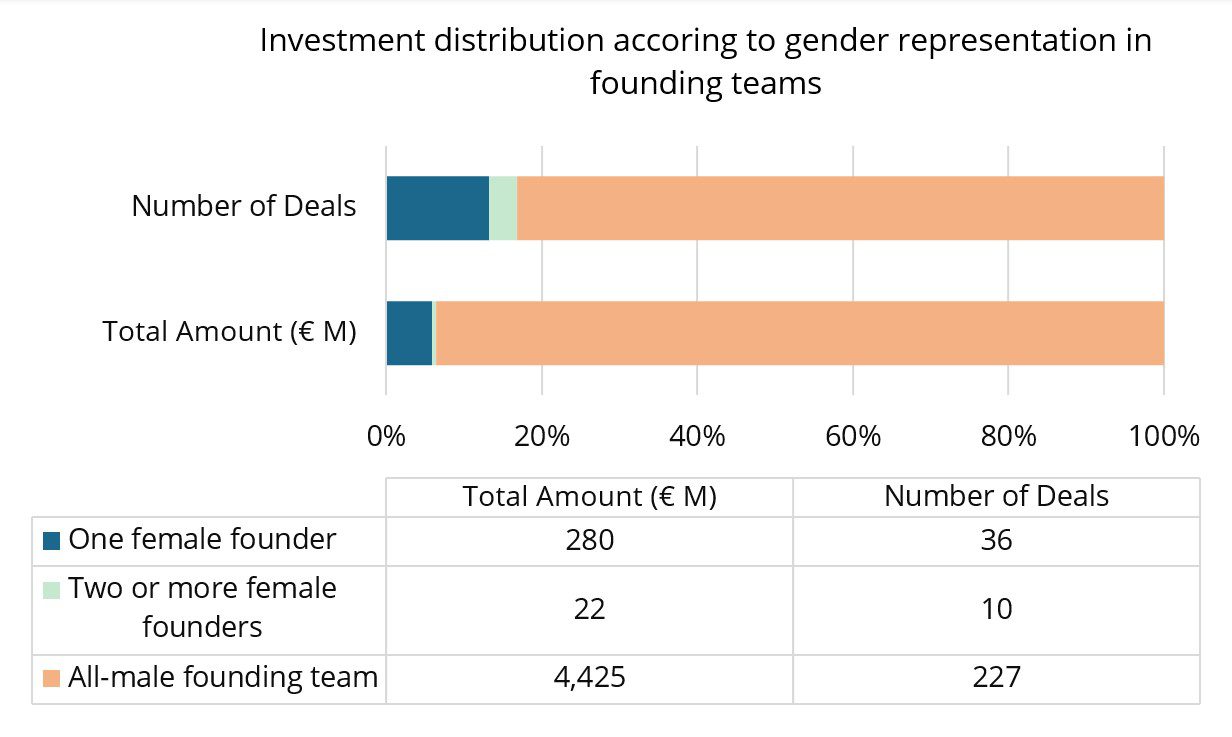 Inequalities across funding stages
What stands out from the two graphs below is that the distribution of funding across funding stages is identical for companies with all-male founding team versus companies with at least one female founder when you look at the deal volume or number of deals. What differs is the distribution of value across these deals. 82% of the capital going to all-male teams comes from later-stage deals, while this figure is only 26% for female-led teams (by this, we mean teams comprising one or more female founders). Female-led teams get most of the funding from early-stage deals, that is Series A and Series B rounds, as well as other round types ranging from 2.5 M € to 12 M €. This suggests that even when female-led startups do receive later-stage funding, the size of the deals is likely to be smaller than for all-male founding teams.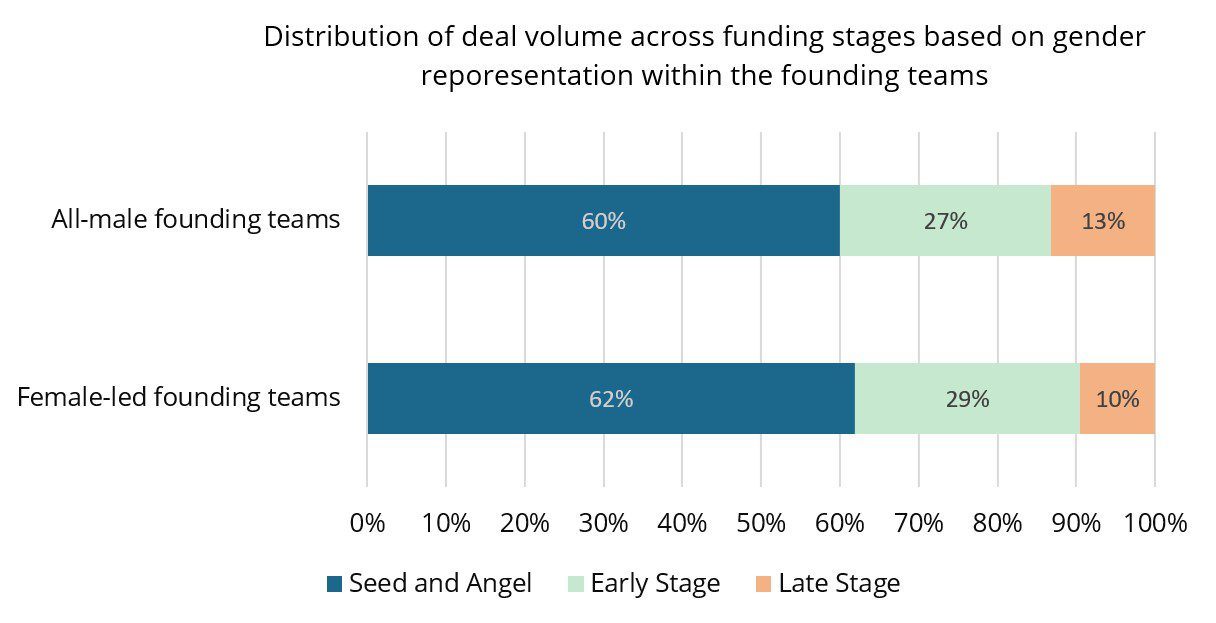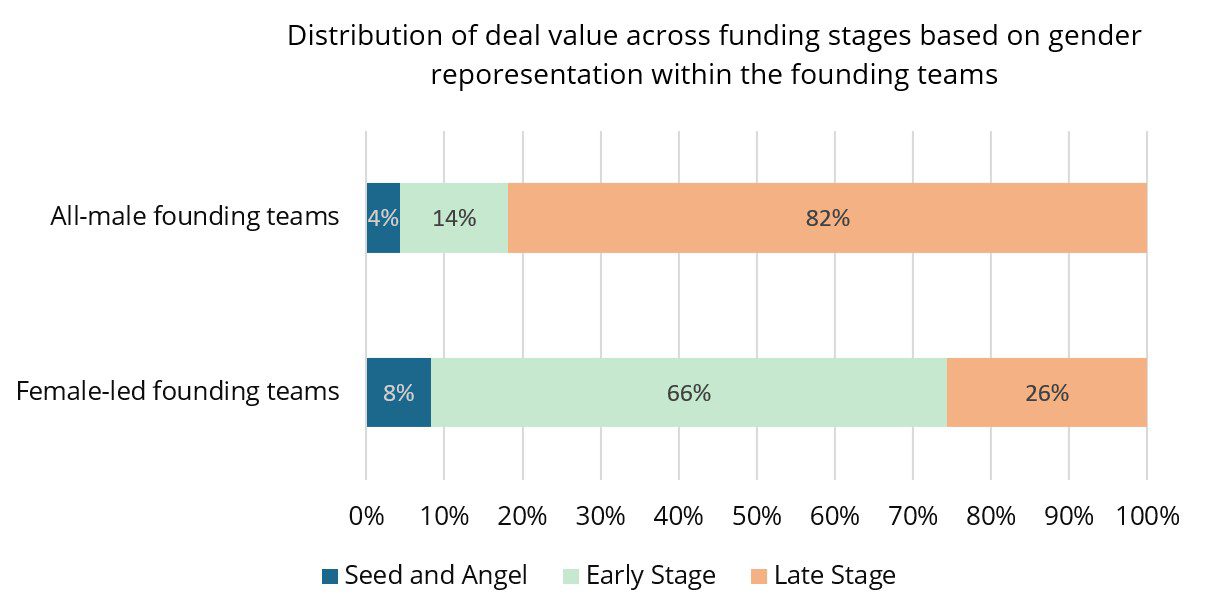 Inequalities across countries
Looking at the distribution of investments across countries, Denmark clearly stands out from its Nordic neighbors. Denmark shows the best statistics in terms of gender equality with 31% of deals going to female-led teams, representing 41% of the total amount invested. Norway, on the other hand, shows striking inequalities with a similar funding distribution as that of the CCE region.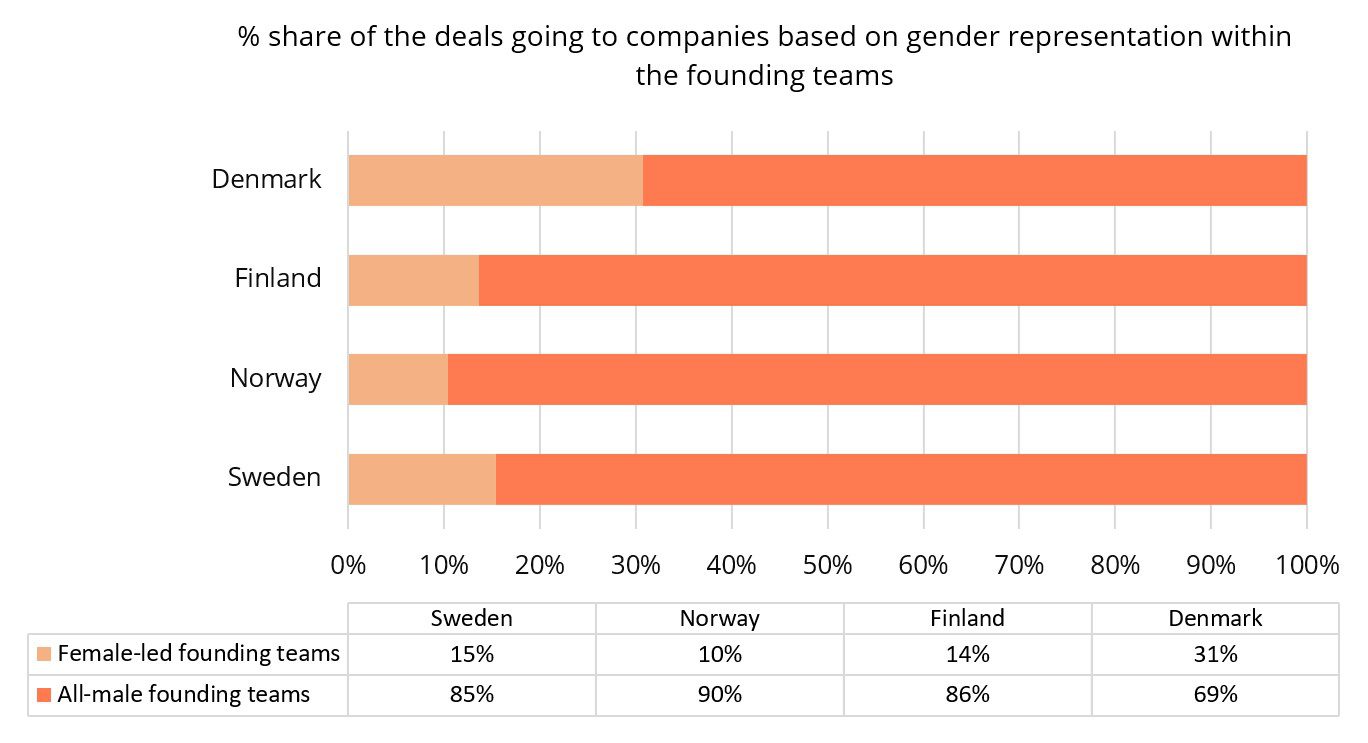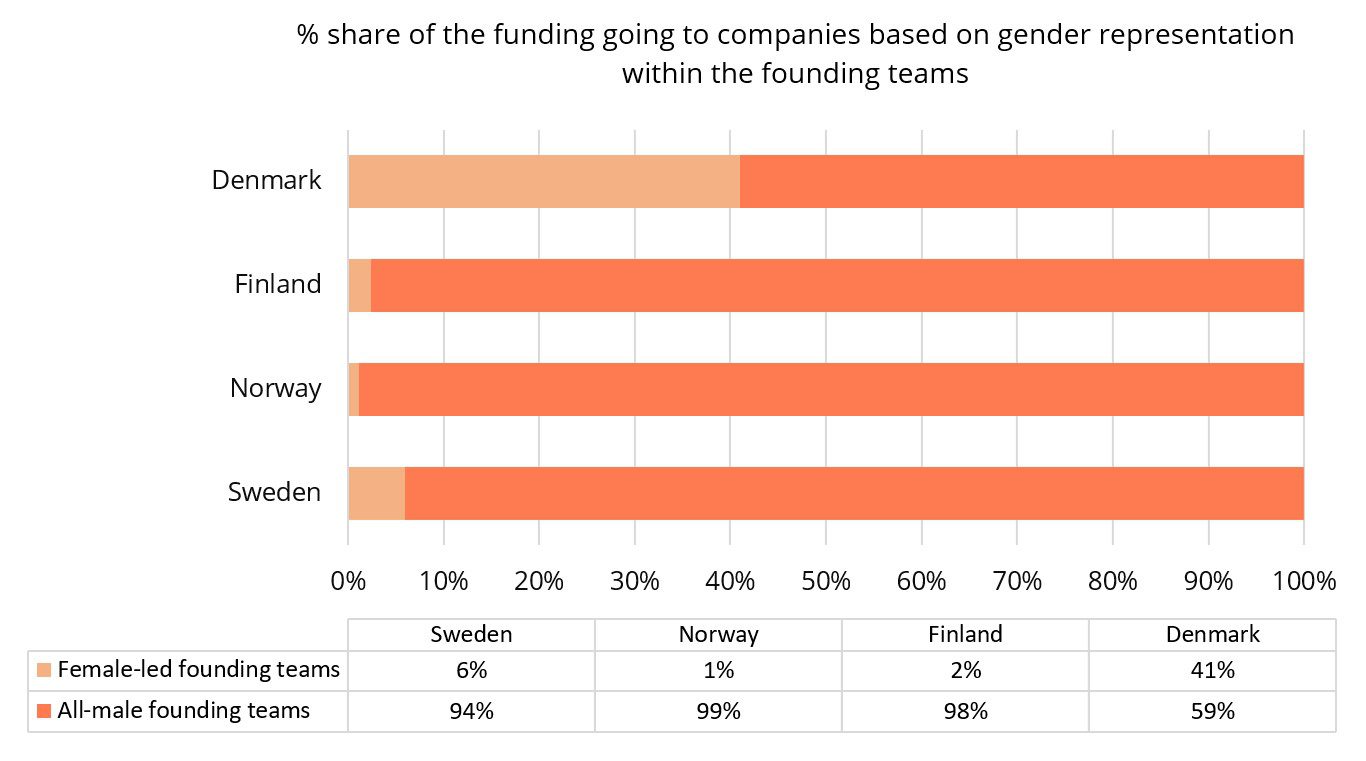 Inequalities across cleantech segments
Disparities across cleantech segments are also striking. While as much as 40% of the deals in the agricultural sector went to female-led startups, other segments show figures closer to 15% and the Energy Storage and Energy Infrastructure segments did not have a single deal going to female-led startups. Looking at the percentage of funding going to female-led teams, figures show even greater inequalities. In the Transportation and Logistics sector for example, while 23% of deals went to female-led teams, this represented only 12% of the amount invested in the sector.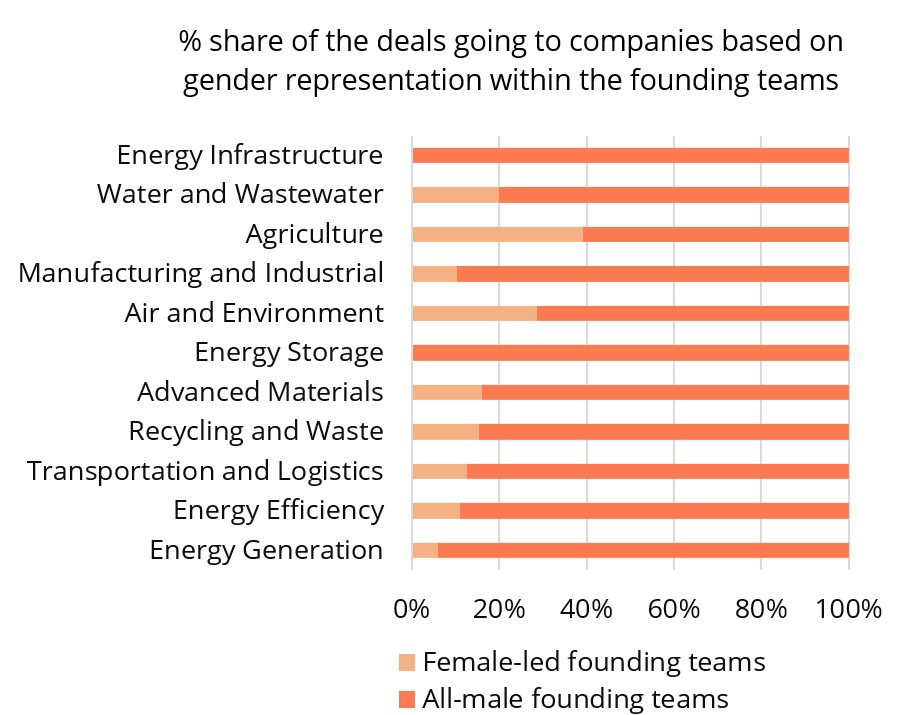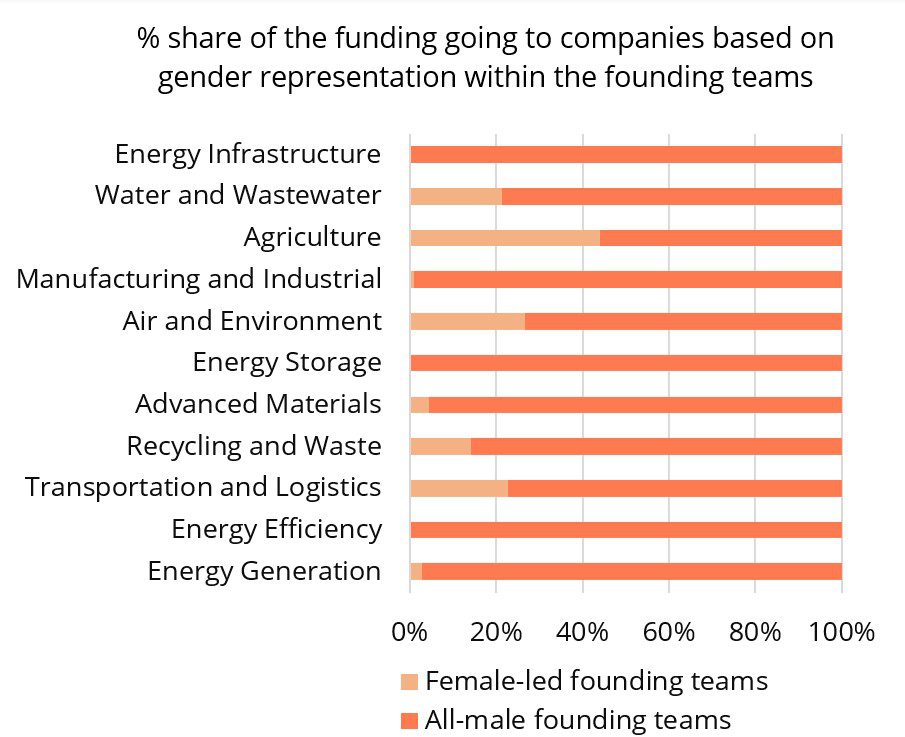 Our research shows that there is a major funding gap in the Nordic cleantech ecosystem. Female-led startups receive an insignificant share of the capital invested in the sector. While Nordic countries have long been championed as leaders in gender equality, this is not reflected in investment activities. As a whole, Nordic countries show the same funding disparities as the CEE region. Interestingly, Denmark stands out from its Nordic neighbors with more than one third of funding going to female-led startups. We are still, however, far from achieving equality, and women are missing out on a chance to shape our future. Or rather, we are all missing out on a better future shaped by women. Failing to address this gap constitutes a big risk, as greater female representation is not only a key driver for performance but also essential in building an inclusive, sustainable future.