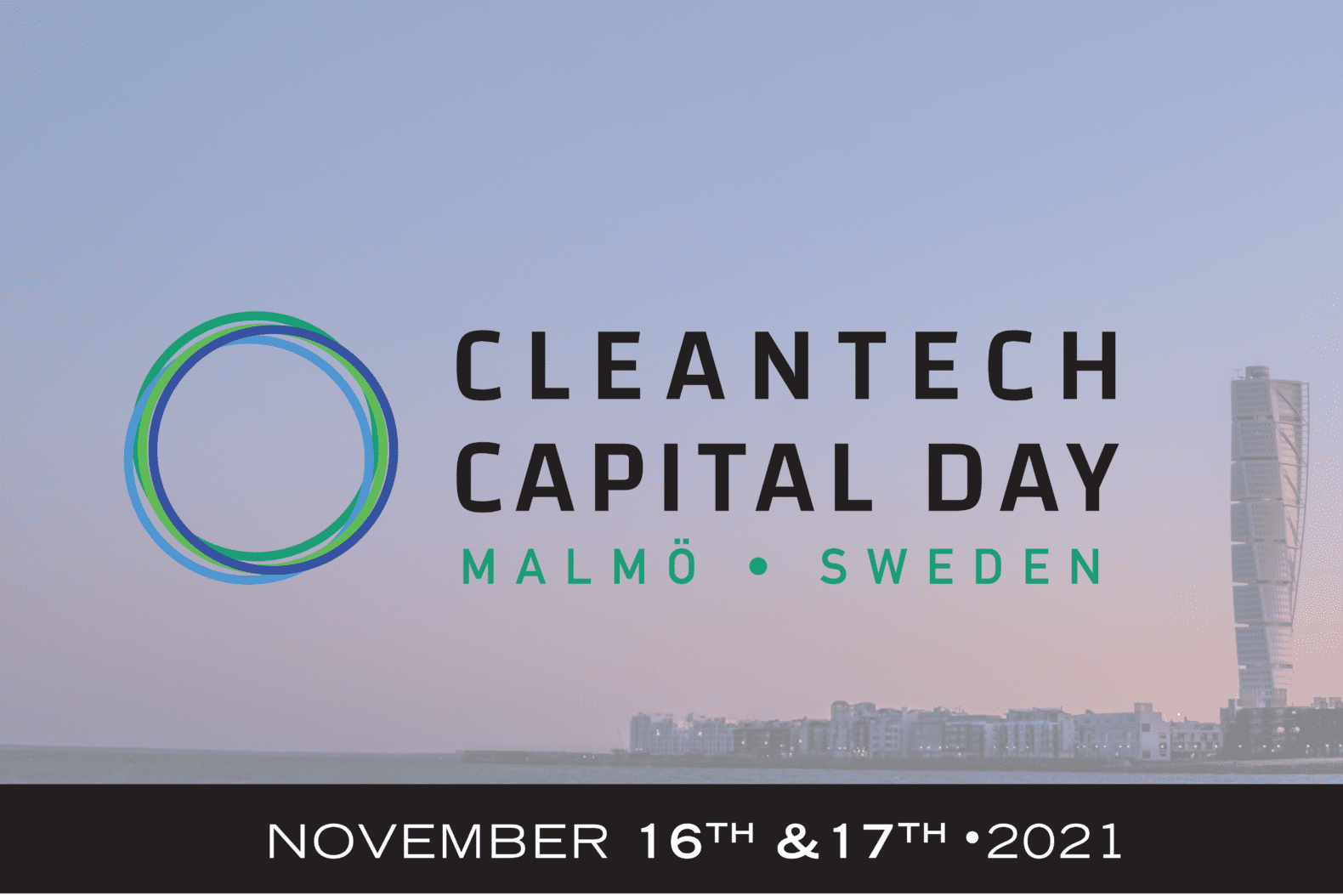 The road to NetZero with Climate Innovations
The road to net zero, from a narrow possibility to a practical reality, poses an unprecedented challenge to our governments, economy and society. While the number of countries committed to reach net zero emissions by 2050 is growing, so are global greenhouse gas emissions. We stand no chance of reaching the 1.5°C target if this gap between word and action is not closed.
A radical shift in investment focus is needed to support the bold innovations that will lead us to a sustainable tomorrow. Clear millstones have been set, spanning across all sectors and technologies, offering a narrow pathway which requires all stakeholders to take concerted action today and every day after for a better future. Cleantech Capital Day brings together entrepreneurs, investors, industry and government to shape the innovation landscape with the goal of achieving climate neutrality.
With more than 400 professionals at the table, this event is the opportunity to reflect on the latest cleantech developments and their impact potential for reaching net zero by 2050.
1. How to drive a historic surge in cleantech investments?
2. Betting it all on Renewables and Electrification
3. Advanced Materials and Circular Economy
4. Climate Impact Assessments
5. Industry and Digitalization
6. Sustainable buildings, urban living, efficient land and water systems
7. Nordic Cleantech Open Finals – 10th Edition
IT'S A WRAP: CLEANTECH CAPITAL DAY 2021
How can climate innovations help our cities and governments to achieve climate targets?  How to drive an historic surge in cleantech investments?
For 1,5 days Cleantech Capital Day brought this urgent topic to the table with more than 30 climate-impactful startups pitching and over 100 participants alongside the TechConnect Europe Innovation Conference & Expo.
The first day was dedicated to the Nordic Cleantech Open Finals. We focused on fostering the early-stage cleantech ecosystem, bringing representatives from the Nordics and Baltics to share how their organizations support innovations and the ecosystem to strive.
Followed were the pitches from the Top 10 companies which led to the selection of the three winners. This was the final stage of the 10th Edition of the Nordic Cleantech Open where 139 cleantech companies from the Nordics and Baltics competed. Big congratulations to all Top 10 Companies and to UP Catalyst for winning the 1st prize, NextFuel for taking the 2nd prize and Enerpoly for winning the 3rd place!
A little bit more about the winners:

UP Catalyst is an Estonian based startup, which produces sustainable carbon nanomaterials directly from CO2 or from waste biomass for a vast range of applications ranging from green advanced battery technologies to biomedicine. UP Catalyst's mission is to become the first and leading European industrial scale manufacturer of sustainable carbon nanomaterials and graphite thus providing a strong alternative to environmentally harmful materials used today. 

NextFuel AB has developed a highly scalable new technology for converting fast growing grasses, and other types of crops, into a clean copy of coal. This new process starts by using CO2 rich energy crops like elephant grass or different forms of abundant agricultural/biomass waste, like bagasse from sugar cane, low quality wood or wood waste, as raw material. They are giving the world a clean alternative to burn. 

Enerpoly is a next-generation energy storage technology company pioneering rechargeable zinc-ion battery chemistry. Enerpoly innovates in battery components, production methods, and designs, and employs agile research and development techniques to rapidly deliver batteries that are suitable for the grid, industrial, commercial, and residential uses. 
The selection of the three winners was celebrated over a networking cocktail and dinner, where all participants – entrepreneurs, investors, industries and government representatives – had the opportunity to connect.
Starting with a speed "dating" opening session, the day was packed with networking opportunities, company pitches, and in-depth discussions around the theme of climate innovations.
The following topics where covered throughout the day:
Deloitte's report "Europe's turning point: Accelerating new growth on the path to net zero" was introduced leading the way to a discussion on the path to net zero for Europe. There is hope that we can change the path we are now but consensus is that there is not a single minute to waste.
We discussed how to accelerate cleantech through Private Placement, Pre-IPOs, IPOs and Spacs focusing on the role of investors, with panel participation of investors and financial cleantech actors.
We discussed Global Climate Solutions Fund of Fund Series as a means to close the cleantech funding gap. This led to a discussion on the role of investors, and the new wave of climate-related dealmakers.
We brought the important topic of impact to the table, with experiences from investors incorporating Climate Impact Assessments in investments screening and solutions potential.
In addition to these discussions, 4 parallel sessions were held on the following topics which hold a key role in decarbonizing the economy:
Betting it all on renewables and electrification
Advanced materials and circular economy
Industry and digitalization
Sustainable buildings, urban living, efficient land and water systems
These themed sessions aimed to showcase the latest high impact potential innovations in these sectors with the aim of accelerating their deployment.
With 1,5 full days focused on achieving carbon neutrality, this event provided many opportunities to meet the entrepreneurs behind the latest cleantech innovations, investors and industrials from all over Europe and the government and city representatives who are working towards the 1.5C target.
This event was supported by TechConnect who connects top applied research and early-stage technologies from universities, labs and startup with industry and investment end-users and prospectors; Invest in Skåne the official trade and investment promotion agency for the southernmost part of Sweden; and Germany Trade and Invest who provides support to startups to establish business in Germany.
Thank you all for contributing to the Cleantech Capital Day! We wish you successful follow-ups and sustainable business development.
See you in the Cleantech Capital Day 2022! #CCD2022
All the best,
Cleantech Scandinavia team
Betting it all on Renewables and Electrification
Betting it all on Renewables and Electrification
VALERY PRUNIER
Open Innovation Director Europe & International at EDF
Keynote: Energy transition enabling the decarbonizing of the society
Keynote: Electrifying transport & the need for innovation
DR ANNA CLARK
Innovation Lifecycle Manager
Advanced Materials and Circular Economy
Industry and Digitalization
Industry and Digitalization
KIRTI VASTA
Technology and Innovation
Sustainable buildings, urban living, efficient land and water systems
ANDREAS HOLMGREN
Sustainable Manager at the construction company Otto Magnusson